PERFECT RAILS, POCKETS, CHANNELS & SWALLOW TAILS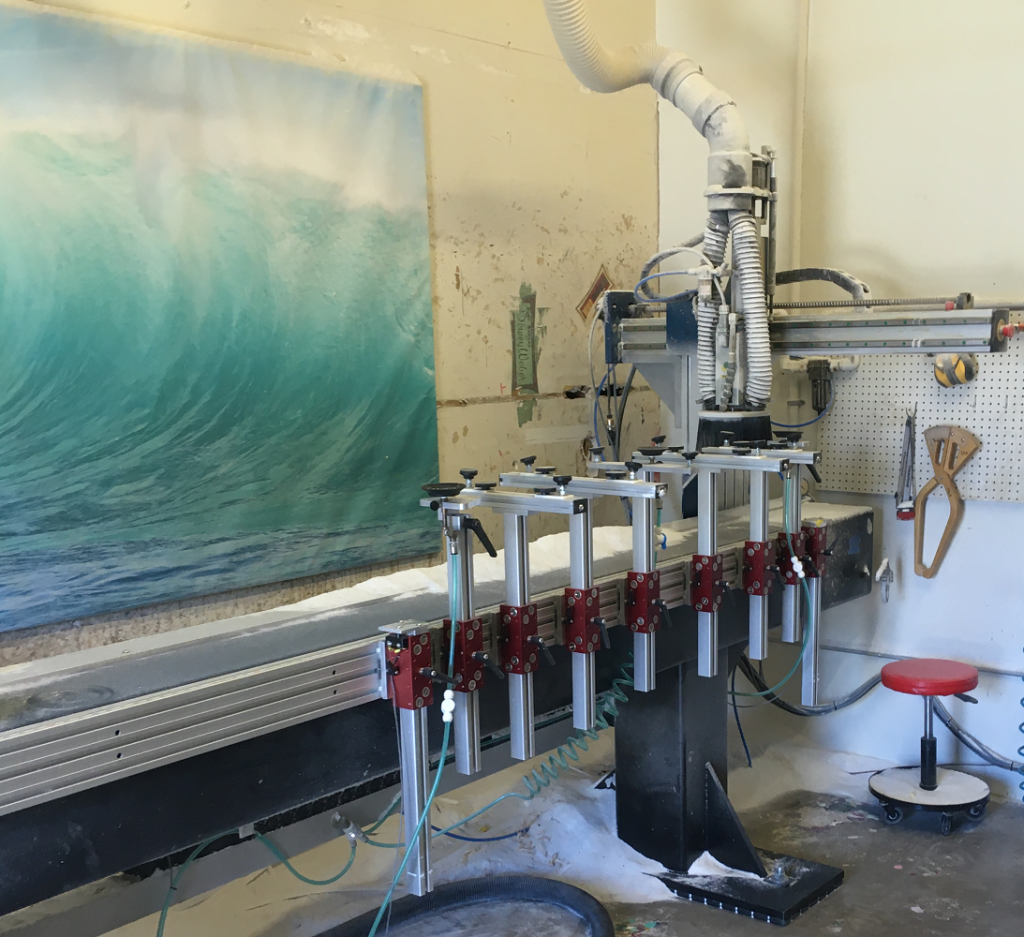 SCANNING SYSTEM
UNMATCHED CUSTOMER SUPPORT

FASTEST CUTTING SYSTEM AVAILABLE
PROVEN EFFECTIVE DUST COLLECTION SYSTEM
PRICING
12′ CUTTING SYSTEM: $64,000 / 14' CUTTING SYSTEM: $66,000
16' CUTTING SYSTEM: $68,000 / 18' CUTTING SYSTEM: $70,000
20' CUTTING SYSTEM: $72,000 / 22' CUTTING SYSTEM: $74,000
5 DAYS ON SITE TRAINING INCLUDED.
INSTALLATION PERSONNEL LODGING, FOOD, TRANSPORTATION & SHIPPING EXTRA.
3DM OPTIONS

EXTRA CUTTERS: $650. / GAST VACUUM PUMP SYSTEM $900.
DUST COLLECTION SYSTEM 2HP: $900 / 3HP: $1400.
SHAPE 3D DESIGN PRO/CNC 1YR: $800 / LIFETIME: $2600. *single computer license*
AUTOMATIC LUBRICATION SYSTEM: $775. / TOOL CHANGE SPINDLE: $5000.
HOTWIRE SYSTEM $4,000 / SCANNING SYSTEM $5,500

 BELOW IS THE 3DM SYSTEM WE BUILT FOR PARAGON CNC IN OCEANSIDE CA
"3DM has an unparalleled understanding of not just the mechanics and technicality involved in building the finest CNC's in the industry but an awareness of how these elements work in concert to meet the needs of the artist."
Dane Hantz / Owner Paragon, VULCAN, Convex engineering Boardroom International 'Best Shortboard Design' champion.

The True Cost of a Surfboard Shaping Machine  There are many surfboard shaping machines being offered today. Our systems are the fastest and most accurate available. Our industry knowledge is unsurpassed. Most claim that they can do what 3DM can.  In fact, it is impossible to create a fast, repeatable, dependable production system, without providing several key components. Without even one of these key components accuracy, repeatability and dependability will be sacrificed. We are glad to go toe to toe with any other system as a direct comparison.
What's the 3DM difference?
 "3DM Added Value"
All systems include:  Heavy Duty Welded Steel Frame  /  Full Feature Support System  /  Dust Collection System  /  Final Installation and Complete Training for Design & Production at the customers facility.  We provide friendly comprehensive on-going support with all our products.
"Welded Steel Frames"
Welded steel frames provide the best base for machines. We tried using aluminum frames in the past. It is a fact that aluminum has more movement due to temperature changes than steel. Aluminum frames constantly change shape affecting the alignment of the support system. Aluminum frame's movement will cause constant alignment issues that will reflect on the rails of the boards being cut. Our Heavy Duty Welded steel frames are extremely solid and are far superior to aluminum frames.
"The 3DM Support System"
The 3DM support system allows us to use a large cutter at high speeds creating a better finish in less time. We have developed a simple Heavy Duty Support System that is Precise, Fast and Easy to Use. For fast and accurate cutting a full support system is necessary. Experience has proven that it is best to support the entire board with a solid, fast set-up support system. Our alignment method is much more accurate than a laser and as fast as any out there. You can expect perfect rails every time from 3DM.
"HSD Industrial Spindle Motors"
We offer Professional Grade HSD Industrial Spindle Motors that allow maximum cutting speed.
"AUTOMATIC TOOL CHANGE SPINDLE"
This spindle allows specific tools to quickly be used for each operation.
"3DM Cutting Bits"
Our special cutting bits have been specially designed to match the shapes of a surfboard therefore give a better finish than standard shaped off-the-shelf cutting bits. The 3DM cutting bit provides the best finish in the best time because of its unique shape. For today's SUP production, having the ability to change cutters for tight contouring and pocketing makes the most sense. 3DM can also create custom cutting bits for your specific projects.
"Software"
We use Shape 3D/3DM Version  that is simply the most advanced feature-rich CAD/CAM shaping software available. 3DM has been involved with the development of Shape 3D for many years adding many key features. 3DM provides the best software for shaping Surfboards & Stand Up Paddle boards. Complete training is provided by our professional designer/shaper who understands the software inside and out. Our knowledge and training is critical to the success of our customers.
"Dust System"
The 3DM dust system puts dust directly into the dust collector bag, not into your face. If you have ever cut a board without a good dust control system you know that there will be a lot of dust everywhere. Breathing foam dust is never a good idea. Customers can also choose from a variety of dust collection options.
"Scanning System"
The 3DM  surfboard scanning system integrates seamlessly into Shape 3D software. Our scanning system is very easy to learn & use.
"Design & Construction"
Every machine system is designed, constructed and tested by 3DM. In the past we have used two different manufactures to build the basic machines. I was always disappointed with the results. They usually put their" 3 best guys" on the job and I would end up with many problems that I needed to solved at the customers location. Sometimes customers needed to wait while their new machine was fixed. For the last few years I have personally designed and built the 3DM Systems. Each machine is tested by actually cutting boards at the factory California before it is allowed to leave the factory.
"Training, Service and Support"
Every 3DM System comes with final installation, complete training & support.
One of the biggest benefits of 3DM is that we completely understand the machine, board design and the cutting process. We provide support for the complete system. We get you cutting excellent boards right from the start. Our comprehensive knowledge provides answers to any questions that you might have and in the future. We are prompt to address any service or support issues you may encounter. We can easily be reached by phone, Skype and internet.
"SUP"
3DM specializes in custom SUP SHAPING SYSTEMS. We tailor systems for your company's specific goals. We have developed systems for major Stand Up Paddle Board manufactures worldwide.
"Knowledge"
Knowing the up and down side of all aspects of all components, is important to consider when purchasing a system. Purchasing a cheaper machine doesn't mean that you will have saved money when you consider the machine downtime and the customers you will lose due to poor product. Choose wisely when making an investment in a system. Today's 3DM Systems will provide you with true value consistently making great boards with great equipment.
3DM has more than twenty year's experience designing, innovating and building "Surfboard Shaping Machines"  into a complete package. We provide you with honest answers and great equipment.
3DM, Simply the Best
Copyright all rights reserved 3DM INC 2021