Hi Jason,
We are all effected by the current ecconomy. My challenge has been to create a very affordable top quality shaping system without lowering the quality of the system and maintain excellent results every time. I can't bring myself to offer less that great results on every board that comes off the machines.
Current 3DM systems stand out in the fact that every board coming off the machine has beautiful rails and great finish consistently.
Robot X is the new innovative 3DM Shaping Machine design. The new design does not sacrifice the machine quality or the consistancy of quality of cut boards. I have incorporated all the time tested conponents into the new design so nothing is lost. Our special cutters and ability to change to various cutter lengths means we can cut all of the contours of todays large SUP's. The great news is that the cost has gone down quite a bit.
At the end of the day holding the best shaped blank in town says it all…
PHOTO: 3DM SHAPED BLANK AT CHANNEL ISLANDS SURFBOARDS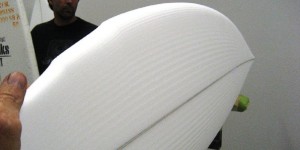 John Yow / 3DM Surfboard Shaping Systems
information@surfboardshapingmachine.com